"There is a time for everything,
and a season for every activity under the heavens."
Ecclesiastes 3:1
Time Out is a Women's Bible Study and discussion group that meets twice a month from 10 a.m - 12.00 p.m. in members homes.
Many Time Out members have children of school age. We enjoy coffee and cake, read and study the Bible together and finish the session by sharing and supporting one another with prayer.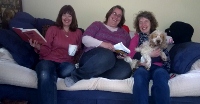 .

Photo used under licence from Fotolia