Time Out

"There is a time for everything,
and a season for every activity under the heavens."
Ecclesiastes 3:1
Time Out is a Women's Bible Study and discussion group that meets twice a month from 10 a.m - 12.00 p.m. in members homes.
Many Time Out members have children of school age. We enjoy coffee and cake, read and study the Bible together and finish the session by sharing and supporting one another with prayer.
Our latest study is called How to be a secure woman.Where can women find security in this insecure world? Using examples of women in the Bible and women today, you will learn practical steps that will lead to a lasting security found only in a relationship with God.
If you would like to know more contact timeout@thamesheadchurches.org or Tel: Elaine 01285 770550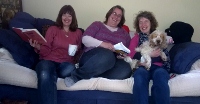 .

Photo used under licence from Fotolia